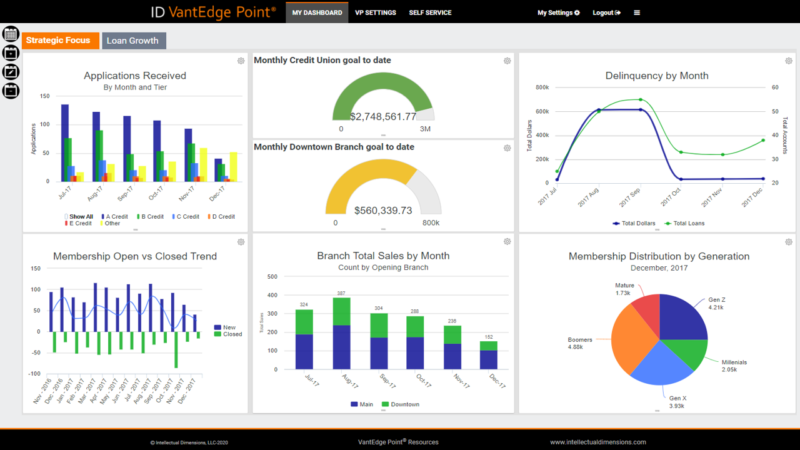 Real-time performance monitoring, self-service reporting, analysis, and trend forecasting
by Credit Union experts
Don't leave achievement of your Credit Union's goals to chance—arm yourself with the only tool you need to make confident, actionable decisions
What do the most valuable leaders have that you do not? It's not the desire, brains, or skills to do the job. It is having real-time access to the information they need to plan, monitor, manage, and analyze critical credit union performance.
And not just some of the information, but a 360 degree view of the entire organization.
The only thing they have that you do not is ID VantEdge Point®, the only CU business intelligence dashboard and self-service reporting tool that is powerful enough to dig deep, yet simple enough that anyone can use, not just the technical staff. ID VantEdge Point® is the only visual dashboard and reporting tool designed specifically for CUs by CU experts. That means it comes preloaded with a complete and ever growing library of ready-to-use, real-time monitoring, reporting, and forecasting templates that every CU decision maker needs in order to know exactly what is occurring in their organization. Unlike other single-source tools, ID VantEdge Point® allows you to access all of your credit union's data, both current and historical for a complete picture of your organization.
Save
Complete library of mission critical, ready-to-use, real-time monitoring, reporting, and forecasting templates

Self-service custom reporting and analysis tool that's powerful but simple enough for anyone to use

No programming required or complex query language is needed. Just select from our predefined library of dashboard panels or create your own

Visualize and measure performance and KPIs anyway you want, instantly

Improved Knowledge – enterprise-wide data allows you to answer productivity, product penetration, usage, and transactional questions from a single source of truth

Easy installation. Immediate ROI. Be up and running on day one.

 
To learn more about how ID VantEdge Point® can empower your organization, contact us today at (763) 259-5760 or schedule a demo now.
Built by Credit Union experts for Credit Unions.
Save
Data Librarian
Data Librarian is the foundation for the storage and access of business information in order to drive innovation, deliver improved efficiency, and plan future strategy. Data Librarian centralizes your vast store of data into one location, allowing you to analyze and report on your Credit Union's membership, product, and performance trends with ease. Data Librarian together with Intellectual Dimensions' over 18 years of experience providing Credit Union Intelligence solutions is the perfect recipe for delivering data that is used to identify opportunities, drive change, and support the goals and strategies of your Credit Union.
With Data Librarian, your host and third party data sources such as home banking, mortgage, credit card, MCIF, and Social Media information can be stored in one easy to access location. No need to worry about database schema changes, reporting is made easier through automatic recognition and modification. Data Librarian has two data storage modes available: Snapshot – separate databases by data source and date or Warehouse – a single database that appends data for all-in-one place data aggregation.
The Data Librarian platform and infrastructure resides on SQL Server and uses industry standard tools for fast transference of data. Any data source that can be accessed via native SQLServer or ODBC (DB2, SQLServer, Access, Sybase, Oracle, Excel, etc.) can be imported into Data Librarian.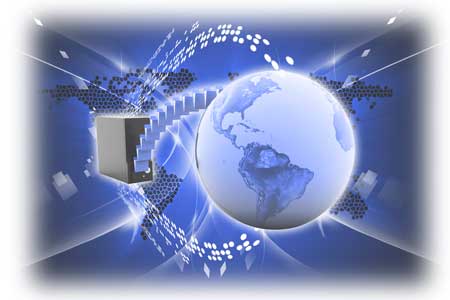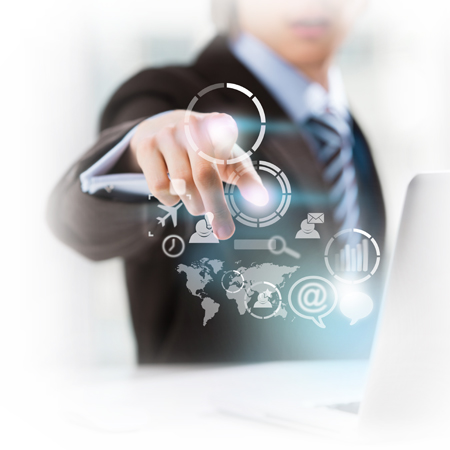 ID DataLink XML Processor
ID DataLink XML File Processor is a schedulable and on-demand utility that dynamically interprets and converts XML extracts into an easily accessed table and column architecture within a Microsoft SQLServer™ database.
Our utility uses the XML schema definition files to determine the best possible layout of XML records, and then creates tables and columns that replicate the XML layout. Because this process is performed during each load event, changes to, and unique layouts of XML files are handled on the fly, without the need for configuration or customization of the program. It can easily be scheduled with the XML download process, or run manually for one-off processing.
With our file processor, in-house report writers can concentrate on the data, not dealing with the complexity of dealing with a mountain of changing XML files.
Combined with our Data Librarian™ product, the data from XML files can be retained in a data warehouse format indefinitely. Sites with in-house SSIS expertise can also use the output from the processor for in-house maintained and developed data warehouses to extend data retention.
Third Party Data Extracts
ID's Custom Data Extract Technology is used to develop solutions that quickly move data and format information to meet third party data requirements. Our highly efficient data pump infrastructure design allows consistent automated data transference using an automatic scheduler. Any data source that can be accessed via native SQLServer and ODBC can be accessed to prepare data extracts for third party vendors.
ID currently has extracts available for:
BSA/AML Regulatory Compliance
Mortgage Processors
Portfolio Reviews
Home Banking and Bill Pay Vendors
Collection Systems
MCIF and Marketing Systems